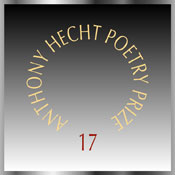 THE SEVENTEENTH ANNUAL ANTHONY HECHT POETRY PRIZE
The seventeenth Anthony Hecht Poetry Prize has been awarded by the judge, Alice Fulton, to James D'Agostino for his collection, The Goldfinch Caution Tapes.
The results of the contest are to be found on our website at https://waywiser-press.com/17th-anthony-hecht-poetry-prize/ and, in due course, pages will be added for most of the contestants who reached the last two rounds of the contest, with sample poems and biographical notes.
The contest's results will be emailed to everyone who entered in the coming days, and the portal for submissions to the 18th Anthony Hecht Poetry Prize will re-open on September 1st 2022.